Too much to list here. But in short, we will teach you all the basics you need to cultivate filamentous fungi industrially. The best way to explore our programs is here.
The course is in English.
However, to a certain extent, we can accommodate French-, German- and Spanish-speaking participants. But we cannot translate everything: English will always be the main language and the documents are exclusively provided in the English language.
Citizens from the EU can travel freely to and from Belgium and do not need a visa.
Citizens from outside the EU need a visa.
Do you need a visa? Then be sure to read our other FAQs on visas.
If you need a visa for the EU, you should apply for it well in advance as the process can be long and difficult.
We recommend you start the application period at least 4 months before the course.
Check our refund conditions so you can take this timing into account during the visa application and while selecting an achievable course date.
We know from experience that getting permission to travel to Europe is not easy for some regions and many visa applications are regrettably not approved. This is unfortunately beyond our control. Our experience is that the visas for 95% of our registered participants from Africa, Asia and South America to our courses are refused.
For people to whom has been granted a Shengen visa before, it is less complicated.
You must apply for a visa at the embassy or consulate of the destination country.
What do applicants from Africa, Asia and South America usually have to do from their embassy?
Some of you will need an invitation letter to the course. Upon request, we can write such an invitation letter for your embassy. Please complete this document with your personal data and send it back to us. We will then undersign and stamp it and provide you with a scan.
Add the scan to your visa application form(s) and be well prepared before you go to the Belgian Embassy, for you will have to prove the following:
that the purpose of your visit is serious, and related to your actual professional activity
that you will be able to finance your stay, and your repatriation if necessary
that there is no risk that you will stay in Belgium illegally after the course is finished
For that reason the embassy staff may ask a series of questions. Be well prepared to defend your application personally, that will be more convincing. Please make sure that the information you give is 100% correct, for everything is thoroughly checked. If there is any doubt at all about the reliability or the financial situation of the company, the visa will be refused.
We wish you the best of luck.
We only keep the place available until 1 month before the course start date due to large waiting lists. If the visa application can't be approved before then of we have not received confirmation, we will cancel the reserved spot and give the place to a person on the waiting list.
We are very sorry. Unfortunately, without an approved visa, you cannot come to our course in Belgium. You will have to cancel your participation. Please inform us as soon as possible by sending an email to info@mycelia-academy.org. Clearly mention your name and the date of the course edition you are cancelling for.
Depending on the date you cancel, either no refund is possible or you will receive a full or partial refund. Please check the refund conditions well in advance, we follow them strictly. For this reason, we advise you to start your visa application 4 months before the start of the course so you, in case it is not approved, can cancel in time and get a full refund.
Surprisingly, your invoice with VAT is most likely correct. We understand that it is a bit confusing: as a non-resident company within the EU you normally don't have to pay VAT on purchased goods from another EU member. But here is an exception, Mycelia Academy has to comply with the new EU regulation on on-site course. This means, in accordance with Art. 21, §3, 3° WBTW, we have to charge VAT for courses.
Included:
The course
A syllabus of the course
During the Substrate and Mushroom Production course: company visits 
A light lunch every day of the course
Snacks, juice, water, tea and coffee during breaks.
Welcome dinner the first evening, with an evening visit to the beautiful city of Ghent.
Not included:
Dinners are at your own expense, except for the welcome dinner on the first evening. The B&B provides a simple one-option evening menu every day during group courses.
Board and lodging are not included, but you get a discount for staying in "B&B De Steenhove" if you book through us.
Benefits:
You can book the nearby accommodation "B&B De Steenhove" directly with us as a free service to enjoy a 10% price reduction on the Booking.com prices. If you book through Booking.com, you do not get this reduction.
If you wish to eat outdoors, you can book an electric car at the B&B.
Yes, you can. These are the conditions:
If you cancel your participation at least 30 days before the start of the course, we will refund 100% minus bank fees.
If you cancel 30 to 15 days before the start, we will refund 50% minus bank fees
If you cancel your participation less than 15 days before the start of the course course, no refund will be made as it will be very difficult for us to fill your place at such a short notice.
Of course, there are exceptions to the above when there is an event of force majeure. Force majeure applies in the following cases:
If the Covid rules in Belgium should change again and we have to cancel the course ourselves. Of course, we will then refund the full amount (or you can move your registration to another course in the upcoming year if there are still availabilities).
If there are changed rules in the participant's country because of Covid and you are not allowed to travel to Belgium because of this. We will then ask for proof of this.
Unforeseeable natural disasters and war making travel impossible or prohibited. Again, we ask for documents of proof.
In case of hospitalization of the participant or death of a close family member.
In the first two cases, we assume that this is only hypothetical as Covid is almost no longer a threat to whether our course can take place.
Sure, you can.
After registration, you can select this option in a form so that we know that you are looking for accommodation yourself.
But here is your best deal: "B&B De Steenhove", located 200m from Mycelia, offers a Bed & Breakfast formula with individual rooms. We strongly recommend that all participants stay here, because of the proximity to our facilites and because the B&B offers great networking opportunities for you to enjoy in the evenings. 
If you opt for De Steenhove, you can indicate this choice after registration and we will book your room at a 10% discount.
You can book "B&B De Steenhove" directly with us as a free service and enjoy a 10% price reduction on the above prices.
How to book? After registering for the course, you will receive an invitation to book your room digitally and indicate your room preference. Payment will be made during the course at the B&B reception.
These are the prices of B&B Steenhove (without discount):
Double room – 1 person: € 95/night, breakfast included
Double room – 2 persons: € 102/night, breakfast included
Shared duplex (only 4 available), with kitchenette, max. 2 persons: € 70 per person/night, breakfast included
Please note that if you book via Booking.com, you will not receive this discount. Do not make a double booking. If you book yourself, please let us know.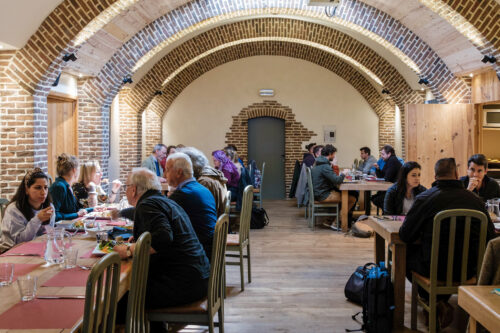 Your course fee includes:
A light lunch every day: bread with  toppings, charcuterie, cheese, an egg dish and soup.
Snacks, juice, water, tea and coffee during breaks.
Welcome dinner on the first night, with an evening visit to the beautiful city of Gent.
Other dinners are at your own expense. The B&B provides a simple one-option evening menu every day during group courses. If you wish to eat outdoors, the B&B has free electric cars available for its guests.
Make sure to specify any allergies or diets on the application form you will receive.
Sure. Just let us know when you make your application and we will adapt the catering to your needs.
We have catered for students with the following diets/allergies the past years: halal, vegetarian, vegan, gluten free, lactose free and (pea)nut allergy.
We refund your course fee for 100%.
Because of Covid-19 this happened in 2020, when Mycelia School had a course planned in September. The increased infection numbers forced us to cancel the course. We refunded everybody for 100% of the course fee, except for a few people who expressedly asked us to keep the money as a payment for the next course.
Should Covid-19 return to seriousness, the Belgian government could possibly request a negative Covid test. Please consult the website of the Ministry of Foreign Affairs of your country, or any other relevant web page with up to date travel advice.
18 people in a group course.
We never had to cancel a group course due to a lack of subscriptions, but we do indeed have a minimum limit.
We cannot organise a group course for less than 15 people. Should we ever have to cancel due to limited subscriptions, we will refund 100% of the course fee.
Yes, you do.
Every participant also receives a USB stick at the end of the course, containing the complete course and some extras.